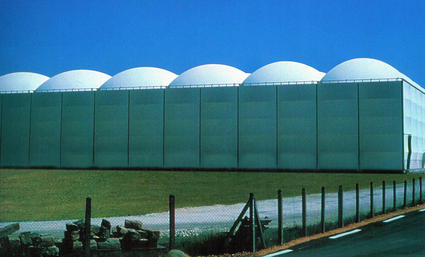 Textile architecture storage buildings: the benefits.

The transparent quality of the textile fittings means storage buildings' day-time lighting needs are greatly reduced, even abolished. The building can be adjusted to suit particular times. The structure is sufficiently light to enable reduced loading vertical load distribution and, therefore, mean it can be used on all types of ground.
From a heat viewpoint, canvas serves as a moderating factor in times of both extreme heat and extreme cold.
On-site construction times are much shorter than for traditional construction. This type of structure is covered by a 10-year guarantee and is designed and calculated in compliance with European regulations.
The building remains removable. It can be dis-assembled without suffering any deterioration. This means that it can be erected at another site in the event of your organisation undergoing changes.
Our design and engineering office is able to produce all of the calculations and provide all of the plans for your projects.