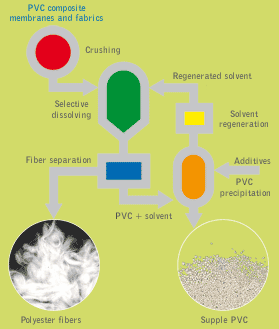 ECO Attitude is based on the Texyloop® technology , a Ferrari Group initiative.

Give your worn tarpaulins a new lease of life with Texyloop®
Texyloop® enables recycling of PVC coated polyester tarpaulins and fabrics coming from: cloth offcuts, returns of worn-out (even printed) fabrics, welded advertising messages, etc.

How does it work?

Step 1
PVC scraps and used tarpaulins are recovered, sorted and storedin order to be collected
Step 2
The Texyloop® process results from high technology that enables PVC recycling. Such a recycling plant is unique in Europe.

Step 3
New products are manufactured from the recycled PVC.
Texyloop contribute to the sustainable development.